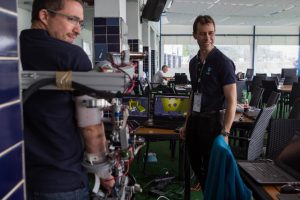 Since the project's conception DexROV partners have attending outreach events worldwide to promote our ideas, progress and research. Today we offer you a recap of where we've been and where we are already planning to attend in 2018.
Since the project started, 30 academic papers have been presented at conferences and workshops, and some papers have been award finalists. Live demonstrations have been made and summer schools and talks have been supported by our consortium members.
ICRA
Ajay Tanwani and Sylvain Calion (Idiap) were award finalists in 2016 at one of the largest global robotics conferences: ICARA.  Their paper provided insights into the state-of-the-art techniques being used by IDIAP in robotic learning from demonstrations. This is a key technology that DexROV relies on.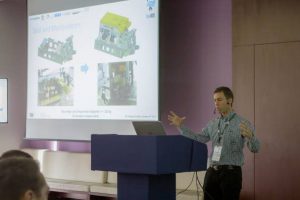 Breaking the Surface 
In October 2017 the DexROV consortium participated in the Breaking the Surface (BTS) workshop in Croatia. Workshops, tutorials, presentations and demonstrations of DexROV technologies and results were given to the attendees by members of the consortium. DexROV's control paradigm and latency mitigation strategy were presented via live demos of the skid set up over the two-day workshop.
European Robotic Forum
DexROV was also presented in Brussels by Space Applications Services at the occasion of the European Robotics Week, earlier in November, with a focus on user interfaces for the remote monitoring and control of operations (virtual reality environment, arm exoskeleton interface). 
Where to next? DexROV in 2018

With the deep-sea trials due in 2018, the consortium is preparing for an extended mission at sea with the new technology. But that hasn't stopped us from finding time for some presentations at high-impact outreach events.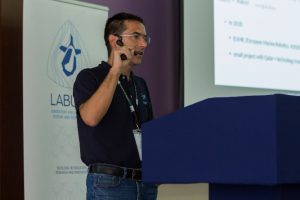 March 13 – 15 2018: Oceanology, London England.
Oceanology is one of the world's largest marine technology and application fairs. The force feedback exoskeleton and the DexROV skid and manipulators will be present at Oceanology in 2018 for hands-on demonstrations.
March 2018: European Robotic Forum, Tampere Finland
Consortium members will give several presentation during the forum this year on their specific technologies developed by consortium partners and the entire DexROV synergy. ERF is considered to be the most influential European meeting of the robotics community.
May 2018: ICRA, Brisbane Australia ISME & Idiap will be in attendance at the 2018 ICRA Robotics conference in Brisbane, Australia next year.
October 2018: IROS, Madrid, spain. ISME & Idiap will attend the IROS robotics conference in Madrid, Spain next year.
More information
For more information, please use our contact page.