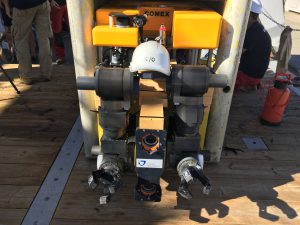 DexROV will be available for you to see in person at the Oceanology International conference in London from 13 – 15 March. Key DexROV experts will also give presentations during the conference. We have all the details for you here.
You can visit the DexROV stand at M251 during the conference, and have a chat with our friendly, approachable experts who will be able to provide information about the project, our progress and our deep-sea trials coming this summer. If you would like to be present during our deep-sea trials, this is the optimum time to register your interest.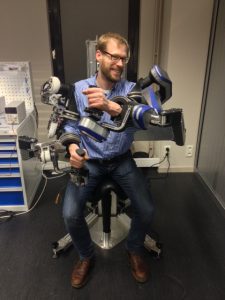 When and where?

If you'd like to hear more about the project, our tech, or the work of our consortium as a Horizon 2020 INEA project, we will present at the following times and locations:
Ocean ICT Theatre: Tuesday 13 March,  11:00 – 11:25
Presentation topic: "Applying space robotics expertise to ROV operations using satellite based communications"
Presented by: Jeremi Gancet (DexROV/Space Applications Services)
Trade & Innovation Theatre: Thursday 15 March,  11:00-11:25
Presentation topic: "DexROV / From the Stars to the Seabed"
Presented by: Leslie Gale (DexROV/Space Applications Services)
We're excited to present the DexROV skid set up and the DexROV haptic exoskeleton at our stand during the event. Find us at M251.
About Oceanology
Oceanology International offers the world's leading forum where industry, academia and government share knowledge and connect with the ocean technology and marine science communities.
Oceanology International's world-class exhibition and conference help bring together marine professionals, businesses and organisations to improve their strategies for measuring, developing, protecting and operating in the world's oceans.
Entry to the conference is free of charge but you need to register. Find out more on their website here.
About DexROV
DexROV is a Horizon 2020 funded project, which seeks to improve dexterous ROV operations at sea, promoting safety and bringing down costs for European operations.
So far, DexROV has produced a wealth of published papers and innovative research that demonstrates the potential of our technology. Find out more about us on our about page.
More information/Contact
For more information about our project please contact us using the contact form on our website.